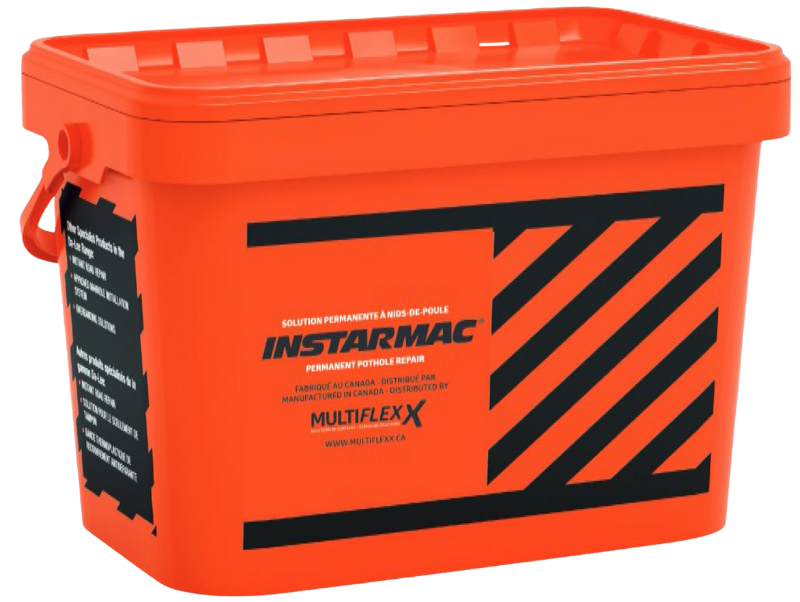 INSTARMAC

PERMANENT
POTHOLE REPAIR®
Advantages of Instarmac® cold based asphalt repair
can be used 12 months per year
in all weather conditions, even in water and snow
instantly trafficable, even for heavy vehicles
no need for water to activate the product
no waste of product if the content is not used in full
respectful of the environment, no greenhouse gas emissions
PACKAGING/UNIT IN REUSABLE BUCKET of 22kg / 50lbs
Sold individually or by pallet (52 units per pallet)
APPROXIMATE COVERAGE
(depending on the regularity of the surface to be repaired)
5sq.feet compacted at 1inch / 2.5sq.feet compacted at 2 inches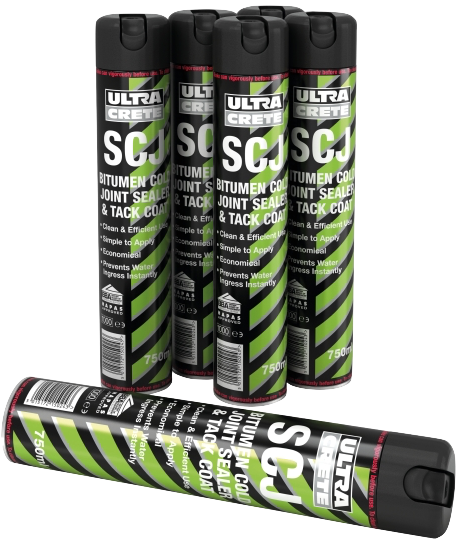 SCJ is a cold-bond asphalt spray applied to edges and surfaces prior to installation of the INSTARMAC PERMANENT POTHOLE REPAIR®.
improves the bond to the substrate
seals the area and prevents water infiltration
considerably improves the performance of the freeze / thaw effect
HOW TO REPAIR POTHOLES YOURSELF…
While hot repairs may be beyond your expertise, most individuals can do temporary or cold asphalt repair. To patch a pothole permanently with Instarmac cold based bitumen, follow these 4 simple steps:
Step 1
With a broom, clean the pothole of all debris including dust, dirt, and loose aggregates.
Step 2
Apply SCJ cold-bond asphalt spray to the side walls.
Step 3
Fill the hole with Instarmac resinous bitumen, approximately ½″ above the surface.
Step 4
Compact the asphalt using a tamper or vibrating plate. Then you can roll over the newly sealed pothole as soon as these steps are complete.

Municipality of Saint-Sauveur
Very good results and easier to use than water activated asphalt. We will order it again next winter.

MTQ of Trois-Rivières
Simple to use and very happy with the results. Product adopted!

Municipality of L'Ange-Gardien
Very satisfied with the result, in all weather conditions.

Gatineau MTQ
Our teams greatly appreciated the speed of execution and the efficiency of the product!

Municipality of Lachute
We tried it on busy and problematic roads. The results are surprising!

Gore County
Really good product! We will definitely order it again next season.

Municipality of Farnham
Easy to use and the bond coat sealer in a can is a brilliant idea!

Municipality of Cowansville
Very good as a product for emergency repairs, it's fast and efficient!

Municipality of Saint-Constant
Being one of the cities in Quebec where there are the most potholes because of our soil problem, we are very satisfied with the product, and we will certainly integrate this product into the budget for the next years to come!

Municipality of Bromont
Very satisfied with the product and surprised at the efficiency and speed of the repair!
We will integrate it into the budget to order some in the fall!

Municipality of Val-des-Sources
Very satisfied with the result!

Municipality of Rimouski
Very good product! We made it part of the budget last season and will continue to do so for seasons to come!